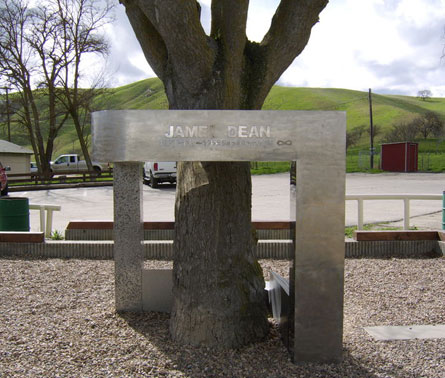 James Dean Memorial in Cholame, California. Dean was killed in his
Porsche
nearly 900 yards east of this tree. It is engraved with the date and times of Dean's birth and death, and features a quote from Antoine de Saint Exupery's Book- The Little Prince: "What is essential is invisible to the eye.
The memorial pictured above was erected in
Cholame, California
in 1977. The sculpture is made of concrete and stainless steel and wraps around a tree in front of the Cholame US post office. The sculpture was the brainchild of Seita Ohnishi of
Japan
. In September, 2005, the intersection of Highways 41 and 46 in Cholame renamed the James Dean Memorial Highway on the 50th anniversary of his death. Dean is buried in Park Cemetery in
Fairmount, Indiana
.